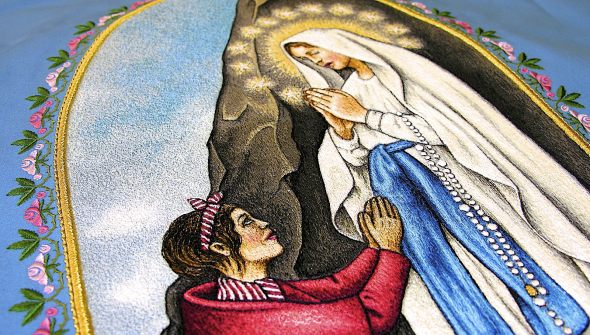 Paraments and other religious goods manufactured in our embroidery and tailor workshops can be found in our customers - parishes throughout the Czech Republic, as well as Austria, Germany, Switzerland, Sweden, Slovakia, USA and Australia.
Our enthusiasm and respect to one of the oldest artistic crafts - the art of hand-made embroidery - are the main reasons why the present Velebný & Fam company is ranked among (not many) renowned parament makers in the world and one of the highest-quality shops with religious items in our country.

We can offer you best-quality tailoring skills completed with artistic, hand-made embroidery work created by famous embroideresses from the region of Orlické Mountains, as well as classic automatic machine embroidery work.

On order, we can manufacture all types of religious items made of textile - tablecloths, vestments, copes, chasubles, stoles, albs, rochets, cassocks, clerical shirts, antependia, chalice veils, chalice sets, christening towels, altar covers, baldachins, birettas, mitres, gowns, the Infant Jesus clothing, standards, and other special religious textiles.

Now you can purchase paraments and other religious items in our e-shop!