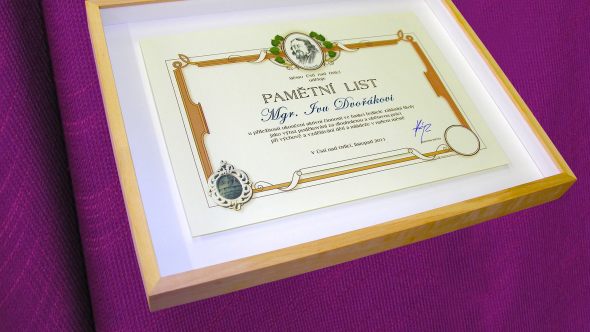 Following from your specifications, our graphic experts can design beautiful commemorative certificates, diplomas, decrees, duplicates of historic documents and other ceremonial documents.

We work with various types of paper. Our diplomas and commemorative certificates can be completed with names, seals or tooling.

What kinds of commemorative certificates are available?
For example, commemorative certificates for firemen are very popular. They are usually issued at the occasion of important anniversary of the fire brigade, or as a gift for honorary members.

The first day at school is a very important day in every family. First grader's commemorative certificate may be a worthy memory of the day when your child became a schoolchild. Commemorative certificates for newlyweds are very popular among our customers, too.

We specialize in certificates of donation. Commemorative certificates which list the names of all contributors are created on a banner. There are small lists with names of the contributors, too. We offer complex services, i.e. including folders, tubes, etc.

The artistic binding is created so that the folders perfectly fit to the documents to be handed over.