Services provided by the Heraldic Office
Our Heraldic Office can develop a new graphic design of your city or municipal emblem (flag), which will be in compliance with traditional heraldic rules. Work of the office involves studying available archive materials and utilisation of the information when creating a new design. All the obtained data and facts are made available to the municipality along with the new emblem.


The office provide complex services, including approval of the design by the Heraldic Committee of the Parliament of the Czech Republic, e-versions of the emblem and flag and seals and blind-blocking dies - all that of highest quality.

New design of municipal emblems?

Municipal symbols should be representative. If you are not satisfied with the current design of your emblem, we can provide its new artistic design which will reflect your needs better. This does not contradict heraldic rules as it is the description (blazon) that is important for heraldry, not the graphic design.
Procedure
Based on your order and consulting with our heraldist, we will prepare 2-3 drafts of your emblem and flag to be discussed and further developed. Adjustments (if needed) are made, and then the final design is completed, including a description and necessary explanation.
You will receive the final design along with instructions for the approval procedure by the Parliament of the Czech Republic.

Example: České Meziříčí, district of Rychnov nad Kněžnou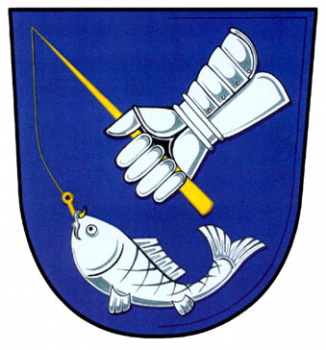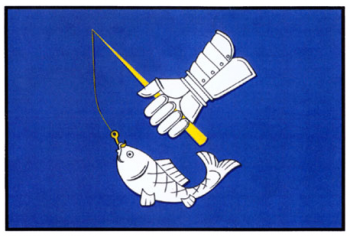 Explanation:
When designing the emblem, the starting point was the historic seal showing an angler amongst three bridge arches. I also used other facts which I traced: the oldest known family that owned the town of České Meziříčí was the Ples family of Sloupno (1396), then the family of Lipé, of Lichtemburk, of Žampach, and the Tošovský family of Žernový.
I included the name of Meziříčí into the emblem using blue colour of the shield.

Emblem description:
On a blue background, there is a silver glove (tin glove) holding a golden fishing rod, whose hook at the bottom of the shield is bearing a caught silver fish.

Flag description:
On a blue sheet, there is a white glove (tin glove) holding a yellow fishing rod, whose hook is bearing a caught white fish.
The width to length ratio is 2:3.