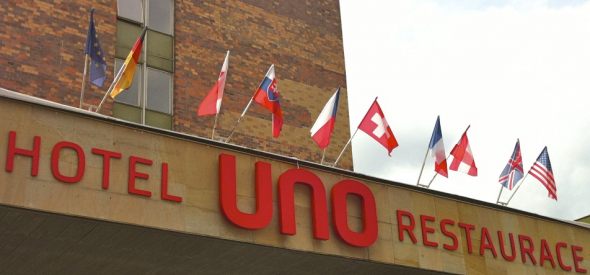 In smaller series, we can create exterior flags which are printed by digital photo printing or digital transfer printing technologies. With large series, it is possible to use screen printing with dispersive paint.
Digital printing
This technology secures only 80% penetration of print through the structure of the textile, which means that the reverse side is about 20 % lighter than the front one. On the other hand, it allows using motives taken from photographs, which is impossible with screen printing.

After preparation for printing, your flag is printed directly on flag textile in the CMYK mode. Maximum possible dimensions are 220 cm x 1000 cm, resolution up to 720 dpi. Follow-up material treatment procedures provide the colours high and durable brightness.
Digital transfer printing
This technology is considered as the best complement to digital chemical printing. It is suitable mainly for detailed motives which include many various colours and distinctive contours. It is used with resolution up to 720 dpi.

During the manufacturing process, the motive of size up to maximum width 160 cm is mirror-printed on transfer paper. In the next step, it is transferred onto the textile. This printing technology does not need any follow-up treatment procedures. The transfer printing is recommended for light interior materials, too.

Screen printing
Screen printing is the best-quality printing technology for exterior flags. Our special equipment secures high durability of the material and resistance of the colours as well as 100 % penetration of the paint into the reverse side of the textile.

After graphic and technical preparations, motives are transferred in an analogue or digital way onto the screen. Possible resolution is over 17 points/cm, sizes up to 220 cm x 600 cm. The colours are then stabilised in the ager. After that, the flag is stretched in a frame and washed and dried.

The technology is suitable for larger quantities as it is demanding to prepare printing screens for individual colours.
Material: 100% polyester = 110 g/m2

This material is much lighter, compared to the one used for embroidered flags, as the paint has to penetrate through the structure of the material.
Flags flutter more easily and they are suitable for high masts or poles.

If the flag is not at stock, the manufacturing time is approx. 1-4 weeks, depending on the current capacity of the machinery.
Final procedures and adjustments
Final steps of the exterior flag manufacturing process include skirting, adding attachment fittings, and careful inspection.
As a standard, for exterior flag hanging either a tunnel or snap-hooks are used.
Furthermore, special attachments and flag adjustments are available, based on customer's specifications.

Most common dimensions of printed flags (v cm):
60 x 90
100 x 150
150 x 225
200 x 300

Exterior national flags are normally at stock, at size 100 x 150 cm (attachment: f a tunnel or snap-hooks).