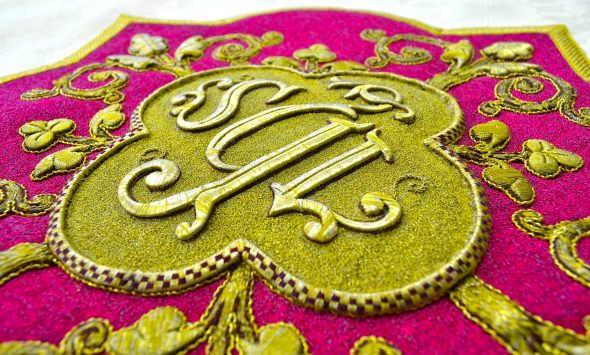 Restoring ancient embroidery work, old flags, banners and baldachins, and making their true replicas belong to most challenging but also the most beautiful kinds of work which we will be pleased to do for you. The restoration work is done mostly by hand though our company owns one-hundred-year-old ADLER embroidery machines and tambour machines to achieve perfect fidelity as they can imitate stitches of the old embroidery work.
Our experience and expertise
Our specialists have restored flags that were over 140 years old, and baldachins for churches in Mutěnice and Ždánice. We have embroidered replicas of tens of banners and have completed a lot of preservation work.
Preserving
Preserving = fixing the current condition, in other words, no additional or new embroidery work, only loose threads are fixed, the piece is cleaned and preserved so that it can be conserved for next generations. No exhibiting is recommended in such cases, the piece is stored under special conditions.

Restoring
Restoring (renovation) = a way of restoring the original condition by repairing damaged parts or adding missing parts of the embroidery in a suitable way. If necessary, the old base textile is replaced and the embroidery is transferred onto the new. Everything is done in maximum precision to reach the fidelity of the original condition.
Replica
Replica = new embroidery is made based on the original version and it may differ slightly from the original, but replicas are made to be the closest to the original.