Ceremonial things for CEMI University of Management in Prague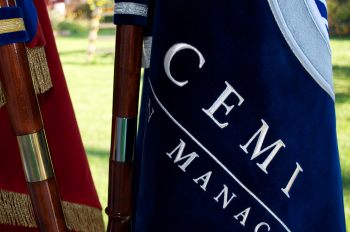 Date of realization: 18. 07. 2013
Client: Univerzita C.E.M.I.
CEMI University of Management approached us with a request to create a variety of ceremonial things. We have designed a decorative string crutch for the Dean of the University, as well as embroidered velvet sashes and velvet ceremonial flag CEMI University and the Czech Republic, including accessories.
Client's statement
Vážení manželé Velební, dovolte mi, abych jménem svým i majitelů CEMI vyjádřila všem, kteří se podíleli na zhotovení vlajek, řetězu, berly a šerp velké poděkování za skvělou práci při jejich zhotovení. Vše se moc líbilo. Studenti se dokonce "přetahovali" o šerpy a berlu, aby se s nimi mohli vyfotit. I díky slavnostním insigniím od vás se slavnostní promoce vydařila a sklidila velký úspěch. Těším se na spolupráci Zdraví
Ing. Eva Matoušková
Univerzita C.E.M.I.
© 2020 Velebný & Fam Ltd. - All rights reserved.
Location: Nygrínova 334, 562 01 Usti nad Orlici, Czech Republic | +420 603 531 589 | vysivani@velebny.cz a>